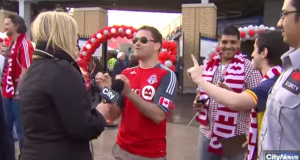 The day started off like most days, I brew a pot of coffee
for my wife and I and she turns on the tv and gets ready for
work.
We were both in a great mood.
In an instant I was pissed off, angry and appalled.
Why?
Let me start by saying that I love a good joke, BUT this is NOT funny.
Not in the slightest.
It is disrespectful and the people that did this are gutless, cowards.
They are not men.
And when given the opportunity to acknowledge and apologize, they choose to dig their heals in even deeper.
I did not choose to wake up to this, but I choose to stand up and say this has to stop NOW.
So what can we men do?
When we hear or see something that makes us sick, we need to say and do something.
They need to know that is not cool or funny, and hear it from us men as well.
This is not a feminist "thing"…..it's a respect thing.
We all need to Man up.
Author of "Life Is Sweet – Surviving Diabetes and a Whole Lot of Other Crazy Stuff!"
http://www.sugarfreeshawn.com/life-is-sweet/