As part of our "Caring for the Caregivers" Program, our team travels to domestic violence-focused organizations and shelters to provide in person support and training around compassion fatigue and burnout. In March, our team was delighted to travel to Philadelphia to train over 50 Caregivers from multiple domestic violence organizations. Our founder, Indrani Goradia, was also able to attend one of the training days, providing more insight and care to our training participants.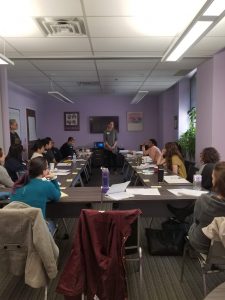 Throughout the week we worked with staff in various arenas: medical advocates, hotline staff, legal advocates, administrators, therapists and housing advocates among others. We had lively discussions about the extraordinary situations staff encounter on a day-to-day basis and subsequently, how the pervasive stress leads to burnout and compassion-fatigue. Many of the staff shared that this stress has had an impact on their capacity to take care of the needs of their friends and family.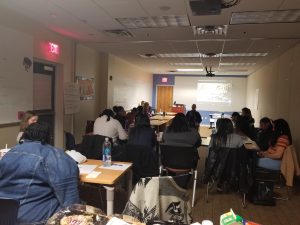 Our trainers actively listened and validated the Caregivers experience. We taught numerous tools designed to support staff with recognizing and setting boundaries, a fundamental practice of self-care. One staff person who has been in the field for two decades said of the boundary tools, "This has changed the way I look at everything." We received consistent feedback that the visualization exercises were immensely helpful in preparing for having difficult conversations. An administrator commented "This exercise has helped me both personally and professionally."
We take great joy in knowing our trainings are supporting Caregivers as they continue to do their work. For more information about our resources and support, visit our Caregiver Resources. We're looking forward to our next training!