Oh how Facebook has reduced us to junior high feelings all over again.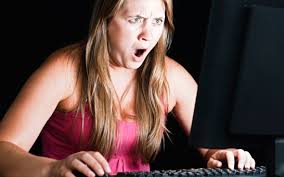 Those feelings weren't that great the first time around. Now they are possibly worse because, on top of the same old teenage insecurities floating to the surface we have that feeling that OMG, really, I am a grown adult and am so emotionally involved in who is my friend or not on Facebook.
REALLY? Grow up!
The inner monologue goes something like this:
Will you be my friend?
Did you like my post?
Why did not you like my photo?
Why didn't you comment on my post on your wall?
How come you didn't Facebook me?
The inner voice is louder now: "What's wrong with me that you do not want to be my friend or like the shit I post?"
Any of these statements ring true to you?
I shake my head in wonder of myself.
I recently had to de-friend someone who I thought was my friend but who did not act like my friend.
My finger hovered over the button to click as I planned on de-friending that person.
Oh the shame to de-friend….
The shame that I did not want to be their friend.
The shame that I was being mean or I was acting like a bitch.
The shame I would hurt their feelings.
The shame that as much as they wanted to be my friend…..I did not want them to be mine.
But the shame is that other person did not respect me, my rules, terms, conditions or non-conditions (as the case may be) of being MY friend.
Why should we feel shame de-friending someone who is not being a friend.
I click "de-friend". I did it.
Oh the guilt. I have been de-friended and I know what it feels like to be de-friended. It's like HEY I thought we were friends what the HELL is wrong with you to de-friend me? What did I do wrong?
Oh the guilt, will they call, text or email me asking me why? What will I say?
The guilt if I made someone feel less of a person because I did not want to be their friend.
It is amazing how this thing called Facebook can evoke these and so many emotions.
There is my Facebook friending insecurities rant.
Now I have one less friend….so friend me, I have a spot to fill!