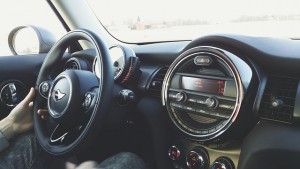 My first car was a Toyota Corolla.
It was a faded gray and it had roll up windows, an AM radio and no AC. The heat worked sometimes.
The dash board had a gas gage and a speedometer.
A manual steering wheel was the driving mechanism.
I loved that car!
It took me on my first long trip from Ohio to New Jersey after Graduate school. There was enough space to stuff my meager belongings and drive off.
These days I still drive an import, just not a Japanese import.
My car has power windows, power steering, power adjusted seats that can be heated or cooled, a lumbar support that I cannot live without as well as a head support.
Air bags in the steering and the doors.
The dash board….
Well this is a thing of beauty.
I have a speedometer AND I can see a numerical display of my speed on the windshield.
The rest of the dash looks like I am in the cockpit of an aircraft.
I know when tire pressure is low. I know when there is a snail walking behind my car because of the rear camera. The car tells me when I am too close to objects in front and in back.
There are bells and whistles… Real bells and whistles that I have NO idea what they mean. I have to remember the sound and look up the sound in the 2000 page owners manual that came with the car.
I will NEVER understand this car! I won't even try.
This car was the play thing of very inspired engineers and when the first one rolled off the line they all applauded and pretended that all the future buyers would give a damn about all the fancy schmansy stuff.
We buy the fancy cars and very few of us really give a damn about all the bells and whistles BUT we would never go back to the old car, like that first Corolla.
Yet, in our private lives, we keep using tools that are as outdated as that Corolla.
The tools we learned as a child to manipulate our parents, we try to use on lovers and partners.
The tools we learned in High School when we were first dating are the tools we insist on using in relationships that are way beyond the immaturity of High School.
We scream and pout as if we were teenagers and expect that people will just give up their positions to keep us quiet and happy.
We expect those tools to still manipulate like they did in the past.
We refuse to better equip ourselves to fully step into adult relationships.
What do I mean?
The tools I am talking about  are readily available in e-books, book stores and libraries. It's the billion dollar industry of the Self Help Movement; while most of us have purchased self help books, how many PRACTICE the tools inside?
It's the practice of new tools and skills that will get us away from the "outdated dashboard" we keep going back to so that we can install a newer updated version.
Let me give you an example of what I am talking about.
I was never taught how to say No.
I was taught to be "nice" and say Yes to all that was asked of me and furthermore to be sure to do it with a smile on my face.
I did this for many years.
Almost killed myself doing this.
The few times I said NO to things, I did it with such anger and animosity that the people around me looked at me like a had two heads.
Like Medusa, if someone tried to get me to be reasonable, I felt like they were chopping off one of my heads and so two would grow in its place. The multiple headed monster was what I would become.
I stumbled upon the book The Power of a Positive No by William Ury quite a few years ago.
I read it, re-read it and read it again.
The simple tools for saying NO were right there.
But, would they actually work in real life?
How would I know unless  I practiced them?
I was at a small conference once where I told one of the participants about this book and how it changed my life and she said, "make it into a workshop. People, women need these tools and many won't read the book. Give them a taste and then tell them to get the book and feast on it."
Ok.
I called the workshop, "Not Your Mothers Assertiveness Training."
I did the workshop.
A few paid to attend and the rest of the seats I gave away.
It was a hit.
People loved the work.
I encouraged them to buy the book and to inhale the wisdom inside.
I heard from them from time to time that they were indeed using the principles.
A few times when they called to complain that they were being forced to do one thing or another, I simply asked, "What's your YES!" (read the book to understand this question)
They got it and did the required work to make the decisions that would work for them.
This book is a part of the Live A Brighter Life series of classes and I encourage you to get the recordings, listen and then get all the books and really do a deep dive into the tools. www.liveabrighterlife.org
We cannot keep going back to the outdated tools, the outdated dash board and expect that our modern lives be best served.
We must find the courage to learn new tools, practice them daily and install them on the dashboard of our beautiful new lives.
Love and light,
Indrani