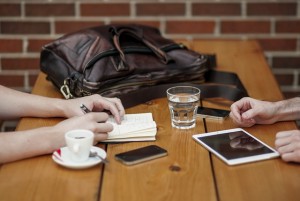 Some of you will have read the title of this blog and have no earthly idea where I will be going.
Others of you will say, "But of course, everyone knows this!"
Still others may just be amused that the title may seem trite.
Let me tell you a story to make this topic come alive. A few years ago, at a business conference I heard a CEO of a large company recall an instance of how this manifested in the C suite.
He was sitting and engaged in his work when he was interrupted by his personal secretary to say that someone from Marketing had a very serious issue.
Being a benevolent CEO, he stopped his work and took the unscheduled meeting.
The Marketing employee came to to tell the CEO that EVERYONE in the Marketing department hated the manager. She listed (painfully) a long string of names of those who had been wronged and how they were wronged and just how affronted she was at the whole state of affairs in the Marketing dept.
The CEO, leaned back in his chair (sure fire behavior that she had lost his attention) and asked her ONE question.
This was it…"Were you appointed by the WHOLE department to bring these atrocities to my attention?"
The answer was a halting and faltering "no."
He continued, "No one asked you to come to me with this litany of complaints."
She said, "no."
He said, leaning forward, "What is YOUR specific problem with your job?"
She blurted out that someone who did less work than she did was making more money than she was.
The CEO, then simply told us these words, "If she had come in with ONLY her problem, we would have looked at it and made a correction. The fact that she was in everyone's business was so unprofessional that she threw herself under a bus."
I heard that story many years ago.
I really had not assimilated it to other life incidents as efficiently as I did a few days ago while I was mediating between a home owner and a domestic helper.
I started with the domestic helper first and I asked what her concernS were and she began a litany of past ills NOT against herself but against others she had heard about.
She told me about "Mary" who was underpaid and about "Janice" who was put upon and "had" to ignore her own family and on and on.
I could NOT find a way into this woman's issues and her individual problems.
Every time I tried to speak she blocked me with another litany.
I then asked her to STOP.
I said I am going to tell you a story. I told her the story from the CEO, the story above. She was enthralled.
I asked her, at the end of the story, to tell me what the CEO was disappointed about and why.
She was able to identify that the employee was in everyone's business but her own!
Then, I said "Are you in other people's business with all the stories you were telling me and not able to identify your own issues?"
She agreed that she was indeed NOT in her business.
I had been observing her facial expressions and body language as she retold the stories that were not hers to tell. She was agitated and closed in and contracted.
When she began to be in her business she was open and her face was not contorted. She was actually able to smile and laugh at some of the humor that I was pointing out.
The moral of this story is:
When we stay in our business we practice self care at its finest.
Byron Katie has a great worksheet for understanding whose business you are in.
Please visit www.byronkatie.com/judgethyneighbor
You will be amazed at what you discover.
Love & light,
Indrani