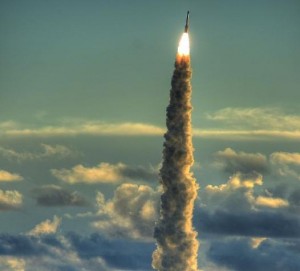 Have you ever seen a shuttle lift off?
From what I have read, shuttles use over half of their fuel supply to break out of the earth's gravitational pull.
After the shuttle breaks free, the fuel usage drops significantly.
If there is not enough combustion and the propulsion does not quite allow the shuttle to break out then all that initial work, all that burning will be for naught!
The shuttle will fall back down and shatter.
I like this metaphor for looking at what it takes to leave an abuser.
In order to leave, you have to have some initial fuel. Perhaps it's a threat that you finally believe. Perhaps it's yet another physical attack. Something fuels you to run for your life.
If you do not have the reserves of fuel to help you to stay gone (breaking free of the gravitational pull of the abuser) you will fall right back into their pull and burn up, all over again!
What are those reserves of fuel?
Those reserves are LOVE for yourself and your children.
Those reserves are finally realizing that your abuser tells you LIES!
The lies are that you are worthless, that you cannot survive without them, that you will live under a bridge or that NO ONE could ever love you.
Lies… All LIES!
The deeper you dig to find YOUR truths the better chance you have to stay gone to continue to free yourself of the gravitational pull of the abuser.
Abusers, like gravity, like to pull you DOWN.
They do not like you to move and think on your own. If they want you to think, they will TELL you what to think, when to think and how long to think it.
Abusers like to see themselves as mind readers, as purveyors of Truth!
The world revolves around them and the only thing that matters is what they believe to be so.
Read this former blog post, Bricks are for building and get an insight into some real life abuse.
How do you reserve enough fuel so that you can stay gone?
Some of the things you can do are:
TALK to professionals about your abuse.
Gather information on how abuse and abusers work.
Begin to identify the pattern in your abuse. 1. Event 2. Abuse 3. Honeymoon** 4. Apologies
**Note that in this 3rd stage, The Honeymoon Stage, is when the gravitational pull to go back to the abuse is strongest. You WANT to believe that he means it THIS time. You want to believe that he WILL never hit or rape or threaten you again. Oh, how you LONG to believe it. Beware of this gravitational pull.
All abuse follows this formula.
Sometimes the time frame between the stages varies from minutes to hours to days and even months. I have also seen the stages take years, but it still follows this formula. The abuse is still present.
Keep notes (in a VERY safe place) and note how many things you are being accused of. Ask yourself if you are really that powerful as to make those things all happen.
If indeed you WERE that powerful, would you not make the abuser stop hurting you?
You cannot fight this fight alone. It takes a whole team of qualified engineers and staff personnel to safely send that shuttle off into space. You need a team of qualified people to help you to blast away and more importantly, stay away.
Find your team.
Refill your fuel reserves.
Blast away.
Stay away.
Far away, until you love yourself SO much, that you will never again believe the lies.
Love and light,
Indrani