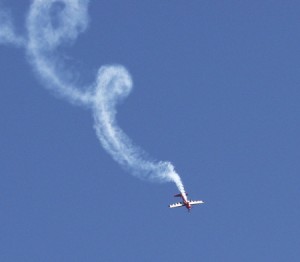 What's the difference between a stunt plane driver in gleeful free-falls and that same pilot in that same plane being thrown around by a tornado?
Give up?
The difference is Personal Choice!
The next time you feel like you're in a downward spiral, ask yourself this question:
Am I an incredible Stunt Pilot and these crazy stunts are MY Choice?
Or
Am I being PELTED about by the unseen forces of ­­­­­­______________? (fill in the blank)
Some of the words to fill that blank space might be:
Parents
Culture
Abusers
Co-workers
Bosses
Religion
After you have filled in the blank, look around and realize that the tornados are not REAL tornados.
How can you find the perfect stunt plane and fly by choice?
Love and light,
Indrani