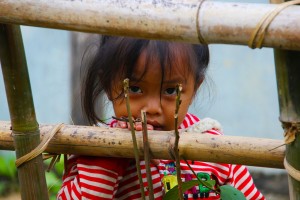 I spoke to a social worker when I was in Trinidad in October, and I heard about a child who was brought to her office by her guardian with a bag of clothing. The guardian is the legal guardian and a very close family member. The social worker was told that the child was stealing food. The child was a very young teenager and was emaciated and clearly hungry.  There was no place for the child to go so the child was sent back to the house with the guardian.
A few weeks later, the whole scene repeated itself.  The social worker again sent the child back.
This story really left me feeling helpless.
Often times I am talking about past abuses and guiding the teller of the abuse story through the pain, and into a deeper understanding of their present power instead of a powerless past.
This was so very different.
This is clear and present danger and pain that was being experienced by a young person that I could meet. I could make a significant difference here. Yet, I choose to keep working at the global level and to use my time and energy to try to make changes at a different level.
I will reach out to that social worker to see how I can contribute to the care and feeding of that child, but I must do this from a safe distance. If I get too personally involved I stand the chance of derailing my whole path because I will get way too deep in the problem, and can potentially make the situation very much worse. This is very hard to accept.
Unless I am willing to step in to legally adopt this young teenager in a different country and devote my life to her future, I can only help in different ways.
When we face situations like this in life, we can only really do what we can do. If we need to work from a safe distance, that is the decision we must make.
If we can do something deeper and significantly contribute to the situation we can choose that path. The option is NEVER to beat yourself up about what we "could" have done or "should" have done.  To be this centered in difficult decisions like this we must practice this centeredness in other less difficult aspects of life.
Luckily for us, life gives us many opportunities to practice centeredness …. from ordering from a menu, to choosing an internet provider, to dealing with the technical advisor of said internet provider who has such a thick accent, we just want to bang our heads with the device we are trying to trouble shoot.  You get the picture.
Look around you and attempt to deal with the next small irritant with a deeper level of groundedness and presence.
Maybe it requires you to use your ears more than your mouth. Maybe you get to use your mouth but in the complete opposite way, like whispering instead of yelling, or smiling in the face of the instigator instead of scowling, pouting. Maybe you decide to use your feet and leave a hostile situation instead of staying and begging the others to please, please, please see it your way.
Only you can decide what to do.
Expect to make mistakes and expect pushback. Pushback is really good because it tells you that you are making waves in the status quo.  If you want to quick start this practice, look at the status quo of your life and see what you would like to change then start there.

In my case, the status quo of my life was that of a "stay at home mom," very little travel and a very confined, albeit very comfortable, world.  These days, my status quo is a far cry from yesteryear.
Take a breath.
Make a small change.

Love and light,
Indrani