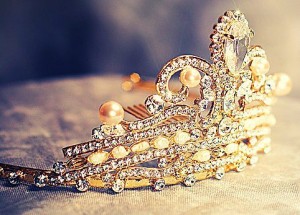 Those four words have been the beginning of many fairy tales for centuries. Ok, maybe not centuries but a long, long time.
Cinderella, Snow White, Thumbelina, Belle and so many others… all princesses that we read or watch movies about. The birds fly around them and animals come out of the forest to be in their presence.  There are butterflies, zebras and moon beams.  And, of course, there is usually a prince.
These are considered stories of fantasy.  But is it really fantasy?  Can we not be the princess in our own fairy tale?
I recently stopped and noticed how these things that seem to only happen to storybook princesses actually happen in my life.  I stopped to see the moon, and think that it is shining just for me.  Perhaps not, but something made me stop and savor in the moon beams as if it was for my eyes only.  Look around, birds flitting about, bees in the flowers, the shiny outlines of the sun behind the clouds, a rainbow all for you to see.  Look at the people in your life who are dutiful coachman to you, as the mice were to Cinderella.  Could we all be princesses if we take the time to notice the magic that happens every day and think, "Wow, is this just for me?"  Could we all be princesses if we would say to ourselves, "I am worthy, I am loved?"
And like any good tale, there will always be poison apples, wicked witches and trolls under a bridge. These people and things bring gifts to us in the form of a lesson.   Scared of lions, tigers or bears? Dig down and you will find courage.  Evil step sisters full of greed and selfishness teach us about grace.  The ugly beast gives us the opportunity to love unconditionally and look at the heart of another.
Try it!  Take time today to look, I mean really look. Be aware of the simplest of things in your day to day life and think that the fairy god mothers, genies, and wizards put these things in your path just for you.  You are a princess, beautiful and loved in your own light.   I think you will be amazed at the wonderful magic that surrounds each of us every day.
Now if you will excuse me I have to go out and feed my unicorn….