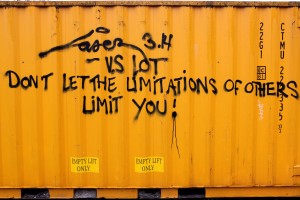 Just the other day on a flight home from Trinidad I watched a movie with Vince Vaughn. It was the movie about Google and his character said, "If you fight for your limitations, you get to keep them."
I immediately began to birth this blog. I have been struggling with some of the language around Gender Violence and I have been struggling with the impatience I feel when people say things like:
It will always be like this.
That's just the way it is.
How are we going to fix what has always been broken?
In the vernacular of Trinidad, it's "Whah yuh go do?"
It's pronounced as one word, "Whahyuhgodo?"
It is usually followed by a shrug and a laugh that means it's too hard to tackle or a sucking of the teeth. (Which means the speaker is quite done with the conversation.)
I have a HUGE problem with the "whahyuhgodo" attitude!
The line in the movie, "If you fight for your limitations, you get to keep them" made me realize why.
When we give up the fight to make things better, we fight for the limits and we put limits on our dreams for humanity.
Please don't get me wrong, I am not saying that we can fix all the ills of humanity but when is it a good time to give up?
Should we give up when we are…
Rich enough?
Old enough?
Young enough?
Poor enough?
What's the best time to give up the fight for a better way to treat our fellow humans?
Gender violence does not just hurt the women and girls.
Sons see their mothers being pummeled and broken.
Sons hear their sisters and mothers cowering and crying and feel helpless.
Sons are also attacked and made to feel broken.
Often children who are witnessing the violence are told NOT to help or the mother will be worse off.
Often the mother implores the children to "go back to sleep" even as she is fighting for her life.
Children are not stupid.
They know that their house is a war zone.
They know that neighbors know their house is a war zone and they see NO one trying to help them.
Can we STOP fighting for our limitations?
Can we begin to live each day a little brighter than the last?
Can we begin to HOLD dear the possibility that limitations are a coward's way through tough times?
I do not want to live the life of a coward.
I want to live brave and strong and hopeful and for that I need to identify my limitations. I need to keep trying to find a better way into a world that is free from Gender Violence.
We owe it to every single child, boys as well as girls.
Let them grow up in houses full of love and hope.
Let them have limitations like which new planet to inhabit, not the limitation of wondering if Mom will be "sick" today and who will help with dinner and homework.
Love and light,
Indrani