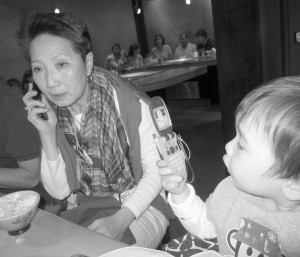 I was in a store the other day and overheard this: "Sit down and be quiet, you cannot disturb your mother while she shops" said a male voice. Then I saw that mom was about 8 months pregnant and sent her some silent blessings and good energy. It was hot, her belly was heavy and she needed nursing bras. Been there…it's not so much fun!
As I was leaving the store, I saw the father happily playing on the telephone as the 2-1/2 or 3 year old just SAT alone, STARING into space. I opened the door…and then changed my mind. I went over to the sweet little boy and gave him a magazine from the shelf with these LOUD words, "Here honey, it's not a KIDS magazine but there are some pretty pictures". Dad smiled at me and then I said, still looking and smiling at the little one "Dad, give your son the telephone so he can play games and you sit and stare into space" and I left.
PEOPLE what are we doing? I see moms pushing babies in strollers and talking on cell phones. What is so damned important? Is EVERYONE a brain surgeon?
I hear parents complaining that their teenagers sit at the dinner table texting and ignore the family. Where are they learning it? What are we modeling for this generation?
It is the ADULTS who are modeling how, when, and where to use cell phones. The kids are SIMPLY following our leads.
I have a challenge for my readers:
 If you have young kids, do not talk on the cell phone when you are supposed to be actively parenting.
If your kids are grown and you see a young mom ignoring their young kids to chat on the phone, go up and engage the child and ask mom if she's having an emergency and needs help.
If you see a father ignoring his children to be on the phone, find a way to say something.
If we all just shake our heads and say "who's minding the kids while we chat away?" then NOTHING will change.
 Maybe these parents were themselves ignored. So let's save a generation. Let's speak up for the little ones so that they get as much parent time as they get free minutes.
Here's a great guide to the time you spend with your kids:
Take a stab at the NUMBER of QUALITY hours you have given your kids over the past few months. Write it down. Look at the last 6 months of cell phone usage and take the average and compare the two numbers.
Guess what? If you are on the phone, you are not engaged with your kids.
I hope that is a wake-up call for this generation of parents. If you do not change, please do not complain that your kids are ignoring you when they are all grown up. After all, you must ask yourself "where did they learn to ignore their families so brilliantly?"
Maybe we should all just be looking in the mirrors.
Love and light from Indrani