Imagine this…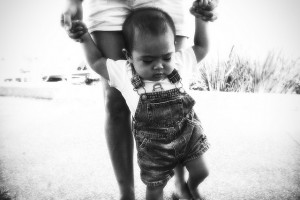 A toddler gets the courage to take a few steps and falls. Mom and Dad
clap with outstretched arms and help her up.
She's quite befuddled as to how she got up in the first place and now
how she got down.
She accepts the help that comes with a provision of hugs and kisses
and the perfect family continues to play this game until she becomes
utterly exhausted.
Tucked safely in her crib, Mom and Dad begin to strategize about
tomorrow's walking lessons.
"We'll walk behind her and not let her fall"
"We'll install handles all over the house so she will always have a
way to stand up straight."
They continue with their plans and they remember fondly how the baby
next door, just walked effortlessly in one day.
They are pleased with themselves and go to bed.
A few weeks later, baby is still struggling and keeps toppling, but seems
to be enjoying the process of standing up and falling down.
They change up the game plan but nothing seems to be working. This is
taking much longer than is convenient for them.
One day, they both look at each other in exasperation and as baby holds
out his hand for help they say,
" Enough already, stand up!"
Are you appalled?
I was cringing as I was creating this, it is so awful!
What awful parents!
Call CPS!
But wait a minute…
Don't we do exactly this to ourselves as we are learning new behaviors?
We try to stand up for ourselves and say "NO! I will not accept that anymore".
The other person fights back and makes us feel bad and we give up.
We give up because it is too painful to keep trying the new behavior and                                                                                                  fall on our face then try to find the strength to start all over again.
We look at ourselves in the mirror and yell at our reflection. We berate
the small person inside that keeps trying to make a happier life for
the "mature" person staring back at us.
I give you permission to treat yourself as a tender toddler and keep trying.
Do you have mean friends who keep putting you down and trying to
influence you to give up?
Say this to them:
Enough already with the negativity! If you cannot support my growth
then we have to renegotiate this relationship.
Have fun falling down and getting back up. Practice makes better. Let's kick
perfection to the curb. Have fun with your missteps.
Love & light,
Indrani