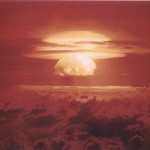 You would have to be living under a very big rock if you did not know that Japan had a very big tsunami that destroyed at least 4 nuclear reactors and that the spent energy rods that are supposed to always be kept under water and cooled are exposed and heating up. While these rods are no longer useful in terms of creating energy, they are still very much alive and can wreck havoc on the atmosphere by giving up the radiation that they inherently contain.
A very simplistic explanation is this, if you burn coal and the embers are left burning, the embers can start a fire if it came into contact with something flammable. YES I know how simplistic this is, please bear with me.
The potential for damage by the exposed rods is HUGE. I do not think that we can even come close to wrapping our brain around how devastating this can be for all forms of life. Think 3 headed snakes and 2 headed cows if you must, but know that those examples are pale in comparison by what can truly happen. Genetic mutation of apocalyptical proportions.
What does this have to do with Life Coaching?
Glad you asked… Think RAGE!
RAGE is dangerous! RAGE creates havoc and RAGE changes families in ways that people cannot fathom. The effects of RAGE may not be at the genetic mutation level, but the toxicities of rage can get into our cells and change us for a very long time.
If you do not know why we act the way we act and do not see that Familial Rage may be the culprit, then we pass on these destructive behaviors to our children and every one says "Oh well, that's just the way so and so behaves".
I say… BS!
When you are in the path of RAGE it's all you can do to keep your sanity. You have to strive to not get swept up and into the path of the destruction.
You have to find ways to COOL down the person who is raging. Family members begin to tip toe around the raging bull and everyone begins to change their actions so as not to set of so and so.
We feel a need to cool them down as surely as we know we need to keep those spent fuel rods cooled. We KNOW that something horrible will be unleashed into our atmosphere if the heat continues to rise.
I have a solution for RAGE.
It is not an easy solution.
When you are in the presence of RAGE… L E A V E… Get up and be very deliberate in your leaving.
Do not say a single word!
Allow your actions to speak for themselves.
If you can be consistent with this for a few times you might make the raging bull-headed person stop and think… And if their rage continues then you have to decide if it's worth being around that person.
The rageful person leaks toxicity not only into their own system but also into the energy fields of those around them.
People who witness the raging events, shake their heads in disbelief as the family members shrink down (hang their heads) in shame and pretend that it's the first time this has happened.
If the whole family would get up and leave the RAGER to rage at themselves then maybe something can change.
RAGE ONLY works if there is someone to rage at, so if people would get some guts and leave, then maybe a change can occur.
I tell you what, trying to keep the rager COOLED and unheated is an exhausting and thankless job and no one should have to do it.
Life is short, why must we waste another minute of it in the face of anyone's rage and toxic anger?
What do you think?