In the book I Thought It Was Just Me…(but it isn't), Dr. Brene Brown cautions us to not divide the world into US and THEY.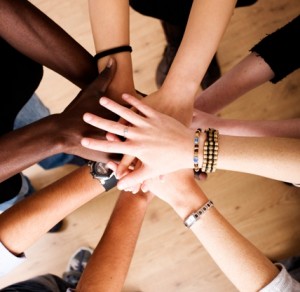 We have all experienced loss, addictions, failures, etc. To draw a random line around the mistakes that THEY make VS the mistakes the WE make makes no sense.
The only thing it does is keep us separated from seeing the other as being human and needing empathy and compassion just as much as we do.
How many groups of THEY do you recognize in your own life?
Different religions?
Different cultures?
Different side of the tracks?
Different skin color?
Different accents?
Different sexual orientations?
The list of THEY is endless, isn't it?
Does the list make you feel safe?
Does the list allow you to stereotype more easily?
Does the list allow you to be a better bully?
Can you ever be SURE that the beliefs you hold about all the groups of THEY are true?
If you cannot prove it, why continue to believe it?
Perhaps this week you can stick your toe into a shallow pool of a THEY group, perhaps you will find something quite surprising. Perhaps you will find someone who feels quite like you.
Someone who has fears like you.
Someone who loves and wants the best for their kids, much like you.
Someone who reads bedtime stories to their kids at night, like you.
Someone who has been betrayed by life, like you.
Someone who just wants to be understood, like you.
I hope you take a chance. I hope you are sweetly surprised.
Love and light,
Indrani