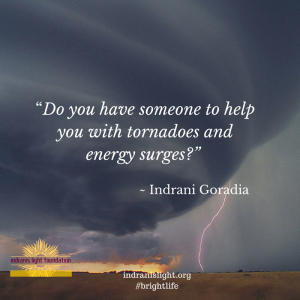 Recently I had an experience that made me lose my ground. It shut down ALL my chakras.
I felt the air sucked out of me. I felt like I had NO physical self. I was but a swirl of energy. Someone asked, "What are you thinking?" I said, "I am only feeling." They did not know what else to ask. I felt like the wet towel on the floor. This feeling used to be very familiar. I worked hard to learn new behaviors, and worked harder to cement those behaviors.
Here is what I wished someone had said …. "Indrani, can you hear me? Shake your head if you can." (I had no language. I only had preverbal behaviors like crying and flailing). I would have shook my head.
Then I wished they would have said … "Can you feel your toes, feet, legs, hips, belly, chest, arms, head?" In other words, I wished they had done the body scan on me since my brain was off line, and I could not have thought of this tool myself.
Then I wished they had said …. "Indrani, breathe with me. Look at me. Hold my hands." I wished they had grounded me. But they did not. They did not know how.
So I collapsed in a heap on the floor.
My spine crumbled life a crushed egg.
I could not hold my weight.
BOOM
The sonic boom I was not expecting, happened. The energy demolished me. It took me many days to recover from the daze.
Now I know. Now I understand that old behaviors that were not useful then are still not useful now.
Now I know. I will hold on to this knowledge.
Do you have someone to help you with energy surges? I hope you do. It will save your life.
Love and light,
Indrani
Facebook:  https://www.facebook.com/indranislight/
Twitter:  https://twitter.com/Indranis_Light
Instagram:  liveabrighterlife