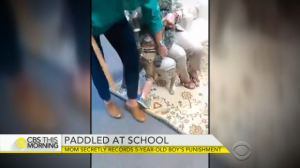 There is a viral video going around the last few days (April 15, 2016) about a 5-year-old in Jasper County, Georgia being paddled by the principle who says very confidently, "I'm gonna do it ONE time unless you wiggle around."  WATCH THE STORY HERE
————
In other words, stand like a man and take your beatings. I am not going to talk about the mom, just about the rule that makes beatings legal. I am reminded of an instance about 23 years ago when one of my kids was little and I went to pick them up at school. The teacher met me at the door with a "parenting" book that extolled the virtues of beating with excerpts from the bible. I wished I had kept it. I threw it away. I understood that my child had acted up and the teacher wanted me to beat my child at home.
See my TEDxTalk  on what I think of beating children:
I went to the school and asked them to see their "rules" on beating children. They proudly produced the pages that explained their corporal punishment guidelines and, of course, with the parents' permission. It was assumed that if I brought my child to this school, I would give cart blanch to all their rules.
They had another thing coming.
I looked each one in the eye and made sure they understood that I DO NOT give permission for ANYONE to lay a FINGER on my child. I told them I would not hesitate to sue them. I promptly found another school.
Many parents do not have the resources to change school, or even the parenting skills to help their child, or even the confidence to stand up to "authority." My heart breaks for the children being schooled under archaic laws, and the parents trying their best without real parenting tools. There are many free resources these days and I hope that people try to find answers in this world of Internet resources.
Help yourself to help your child.
Love and light,
Indrani
(P.S.  I would love to hear your thoughts or stories about this issue of spanking in our schools.  What say you?)
Facebook:  https://www.facebook.com/indranislight/
Twitter:  https://twitter.com/Indranis_Light
Instagram:  liveabrighterlife