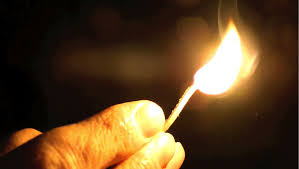 The other night, I was trying to light a candle and was furiously striking the match but nothing was happening. Lamenting at how matches are so poorly made these days, I carried the candle into a lit room to try to find some different matches ONLY to realize that I was not striking the flint end if the match!
Man…did I feel dumb. I had to take back all the horrible things I was thinking about the match box manufacturer.
This, of course, had me thinking about other ways I had been wasting my energy and not putting my talents and gifts to best use.
Like the time I've wasted wondering why I did not get a gig that I wanted or whether my talents were good enough.
Every time a missed opportunities happened it was because I was barking up the wrong tree…not striking the proper end of the match.
I was not following my own unique gifts and purposes.
Every time I missed "a chance" I was given the space to dig deeper for my truer purpose.
One really good example of this happened about 9 years ago. I was working alongside some people who had invited me to be with them at an O Event where O Magazine was putting on a conference. I was supposed to get a behind the scenes pass to help my mentor who was presenting from the stage. I had to buy my own tickets and pay for my own hotel room but I would have the opportunity to talk to others about my coaching.
ONE day before I was supposed to be in Boston for the event, I got a call from one of my "colleagues" (the one who invited me in the first place) and she says, "I'm not sure how you thought you were invited. We never said that."
I was devastated but I went anyway since it was my own money on the line.
I nursed my feelings of displacement and tried not to show anger when I saw my "colleagues".
I am grateful now that those people showed me their true colors.
It forced me to figure out my own path and to strike out on my own.
I can see now that I was striking the wrong end of the match. As hard as I tried to make that opportunity work for me, there was NO FLINT to engage. There was just a lot of nothing. I could not make something from nothing.
I was forced to "make my own flint" and follow my own path.
So the next time you see a missed opportunity, ask yourself if there was any flint there in the first place.
Perhaps you are being asked to look elsewhere, to use your talents elsewhere and to strike out on your own in another place.
Love and light,
Indrani