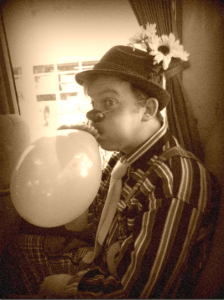 Ah…behind the nose of a clown. A clown can be anything.
Behind the nose of a clown, a clown can pour out compassion at a safe distance from others.
Behind the make-up of a clown, a clown's inner feelings and personality are hidden.
Behind the costume of a clown, the body and physical attributes of that person disappears.
Being a clown, as we have all been, allowed us to do one thing….show love and compassion, nothing else.
What mask or costume do you hide behind as you go through your day?
My challenge to you in 2014….be your kindest, most caring, compassionate, loving self without a mask or costume.
Can you make people smile and connect with another person in "nakedness" of who YOU truly are?