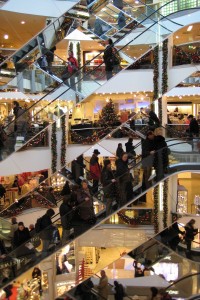 Are you listenin'? And I am not talking about listenin' to a bombardment of holiday ads to buy, the sound of cash registers, the voices of people clambering around stressed out searching to meet the expectations that come prepackaged with the season.
Are you listenin' to your true self and what you need?
Does that sound selfish during a time of year that is meant for giving? It is not, because only you know what you need and in order to give to others you need to give to yourself first. Carve out the time to give to yourself. That can be in the form of a hot bath, time to read, a much needed nap, or the ability to say I have done enough for today and not push through one more store. What if I told you that holiday memories can be made and you don't have to go to Macy's to find them?
Look in the mirror.
Invest the time in yourself to be happy, be healthier, be lighter in spirit and present your true higher self to the ones you love this holiday season. This would be a precious gift providing holiday memories of a lifetime. People would remember your warm embrace, your smile that lights-up the room, the song of your laughter in the air.
For those people in your life who cannot see this dearest gift of YOU, no box wrapped in shiny paper will warm their heart or bring them into the truest spirit of love and giving. Say a prayer for them, one of hope and joy that they will realize their true self which will bring happiness and peace to their life.