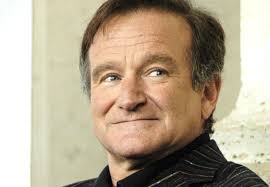 It is amazing how profoundly touched I have been by the death of Robin Williams.
Yes, he was brilliant, funny and an amazing man who touched many….but he was a person just like you and me.
Beyond the sadness of his loss is a pain in my heart because I KNOW the desperation he felt as he stood in his depression on the precipice of life and death.
For those who have never stood on that ledge, the tragic concept to end ones life is horrible yet it seems so rational to those of us who have teetered on that cliff.
There is an overwhelming sense of hopelessness and the option of death appears to be a choice of true freedom.
It's a decision of surrendering. We have put up a good fight, but now have no more fight in us to keep going.
It is a black or white option, torment or peace.
Unfortunately, millions of people in the world who suffer from depression understand too well what he may have felt in the final hours and moments of his life.
My heart aches today for those who loved him but also for the millions of souls who stand alone on the precipice each and every day.
Please, if you suffer from depression, know that there are options.
It sometimes can be hard to take even the smallest step towards help but even the small step can bring you closer to a better way of life.
#depressionawareness
PS: If someone you know or love struggles with depression, do not dismiss them. Listen, love and help.