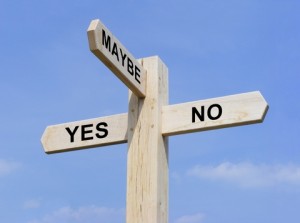 Recently, I was attending a meeting with some pretty influential folks.  I was only a guest and I was so happy to be included.
During the course of the meeting as the participants went around the table offering solutions to the issues at hand, I noticed there was one woman who absolutely refused to answer questions directly.  She giggled and acted coy (dipping her chin and batting her eyes), and would not give a straight answer to some very simple questions.
The questions were as simple as, "Do you want lunch?" She would dip her head and make a surprise face as if to say, "Who me, want lunch?…. giggle, giggle!" And, still would not say "Yes" or "No." The person asking the questions was getting quite frustrated with the way it was going.
This behavior really bothered me and I had to think long and hard about why I was so bothered.
Everyone has their own way of decision-making. Some people need lots of thinking time while others can jump right in. This was not a meeting that required thinking time. It really was a quick get together of many partners to decide how an event would go.  It really was a series of yes and no questions that needed to be asked and answered so that people could know what to expect and how to prepare.
I decided I was frustrated because the woman who was being indecisive was holding up all the rest of us. Everyone was staring at her for ONE simple answer.
The more people stared, the more coy she became.
She did not stand in her power. She acted like she had no power, or even like she never heard of the word power. She had no agency. She wanted others to read her mind, or infer from her behaviors what her response would be.
It was really frustrating.
The next time you are involved with a group trying to decide something, ask yourself if you are standing in your power.
Are you bringing all the parts of yourself to the meeting?
Are you there to make it easy for your other team members or to complicate things? Are you holding back information that is crucial to the team for one reason or another?
This meeting is still fresh in my mind and I can still feel the frustration. It was just ONE person acting like this who was holding up the whole show.
Don't be "that" person.
Be the person who wants to be part of an effective team. Life is so much better with people who show up to make things easier and smoother. We have enough obstacles in our lives that we cannot control, so let us control the way we behave, and show up to participate in helpful ways.
Love and light,
Indrani