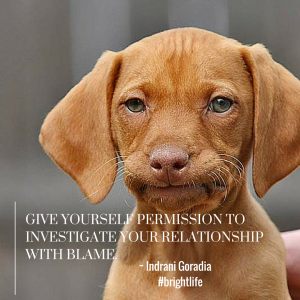 My I phone was working well one minute and the next minute it was not working well.
Being the kind of self-blaming person that I am, I immediately assumed that I was doing something wrong. The phone was still making and receiving calls and I could still text and email and I could do an Internet search but when I clicked on a link, the phone would freeze. I recognized the "freezing," but could not fathom what was going on. I assumed that I was at fault and all of a sudden I had forgotten how to use hyperlinks.
Why would I blame myself so quickly about something so "out of my control?"
The answer to this question is easy. I am used to being blamed for things that do not go well.
In my family of origin, it was always my fault if one of my younger siblings did something wrong. I was the oldest and it was MY responsibility to keep my siblings in line. No one had ever asked me if I wanted the job, I was simply given the responsibility without the power. In my own home I was also blamed if things did not turn out as they should have. I cooked the wrong food if the kids did not eat, or my cooking was not good enough. If a family member became upset with me and I defended myself, then I was somehow to blame for the rift in the family.
People would tell me, "That's just how the family is." But no one ever told me, "Well, we know how YOU are, and the thing that happened was NOT right." Finally I got sick and tired of being blamed for things that were not my fault, and I began to set some boundaries. I have become really good at setting boundaries with others, but not so good with setting boundaries with myself.
Hence, I still succumb to self-blame.
This was the trap I fell into when my phone began to freeze at unexplained moments. I finally took the phone to the Apple Store and sheepishly asked if they knew what was happening. I never expected them to have any answers. I was wrong. The Apple helper immediately recognized the issue and said he could fix it. It would take five minutes. It was a software glitch that was causing the freezing behavior.
I was shocked. I was sad. I was sad because I had so easily accepted the blame of the phone issue. This issue that had absolutely NOTHING to do with me. I hope I remember this lesson the next time I accept blame for something that is not my fault. I encourage you to look at the blame that is freely given to you, and the blame you readily accept. You may even grab blame from others because it's more comforting to put yourself down than build yourself up.
I hope you give yourself permission to investigate the relationship you have with blame.
Love and light,
Indrani