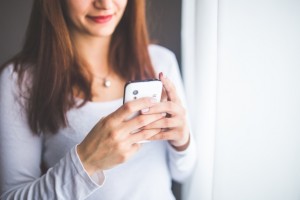 Indrani recently posted a story on her Facebook page that launched an interesting conversation and dialog about what Indrani witnessed between a mother and her little girl at the airport. Here is the story:
At the Gate at LaGuardia.
"A little girl 7 or 8 is trying to get her moms attention. The mother is SO into her phone and she rebuffs the child at every turn.
The child tries to kiss her arm and the mom moves the arm.
The child squirms and asks a question… the woman barks,'stop squirming!'… never looking up from the phone.
The grandma says, 'honey don't bother your mom.'
The girl looks really sad.
I look at the girl and I lean down so I can make eye contact and say, 'hey I have some coloring pages and I am going to let you tear a few out, and I will give you some of my color pencils, too.'
The mom looks up. She says, 'oh, she has coloring.'
I ignore the mom. I am focused on the child.
I give her my coloring book and tell her to tear as many as she wants out.
I show her the pencils and she shows me hers.
She starts to tear out the pages she likes, and the mom says, 'Be careful.'
I say, 'It's only paper, if it tears get another.'
Now the mom is off the phone and talking to the kid.
All I did was break the damn 'phone trance.'
 Here is some of the dialog that transpired on Indrani's post:
 Facebook friend: "It can be helpful. It's also good to remember that sometimes, because of the way our culture has broken down, the mom may be at the end of 3 days of overwhelm, of nothing but kid, and is just needing a few minutes to zone out. She may also be trying to communicate with someone on the other end of their journey. Or…
I've stopped judging parents when I see them in a few moments of "imperfect parenting" because, hey, we don't know the background."
Facebook friend: "As Mark mentions, judging may be off-the-mark, however you certainly offered love in the form of attention, paper & pencils. Bravo, Indrani. You illuminate our world with examples of love in action."
Facebook friend: "Fair point, Mark. But I'd hope a parent with a child that age would have raised the child so that a simple, "Honey, I need a couple minutes to do this" would suffice with a suggestion to do something in the kid's travel pack of activities. The mom moving her arm really struck me when I read that. I'm trying to think of how I would have internalized that when I was that age, if my mother did that to me. Sometimes, seemingly innocuous in-the-moment gestures have long-lasting impacts."
Facebook friend: "I agree that it's important to not judge totally on what you see. Some kids crave attention when mom is on the phone- even if they have discussed it ahead of time, they can be a pest. It is not always easy to be a perfect parent- I remember when I used to judge screaming kids in grocery stores- until I had my own. But good for you for helping at that moment."
Facebook friend: "Thank you for modeling a positive focus on the child Indrani.
Because I've seen these kinds of posts from you before, it helped me shift from judging a mother to "how can I add something positive for her child?" when I saw a frustrated mom in an imperfect parenting moment.
The time came when the girl was fingering the silver chain on my purse, which was sitting on the table in a coffee shop. I'd noticed she had sparkly silver shoes on, and said "Oh I really like your shoes! And they match my purse!" She got a big smile and I felt I'd given her a positive boost.
As others have said, we don't know the background and how many meltdowns that woman may have handled beautifully in the last 24 hours. Or that maybe she was recovering from the flu. Or has a sick elderly parent. Or has worked 60 hours that week."
There are more comments, so if you're interested in the entire dialog, click on this link: http://bit.ly/236GVvx
Are you a parent of small children? Or have you witnessed a parent do this with their child? What are your thoughts on the self-care of parents, and how we can improve our relationship with our young children in this new age of technology?
Please comment below, or visit our Facebook page, or Twitter and tell us what you think?
Love & Light,
Team ILF