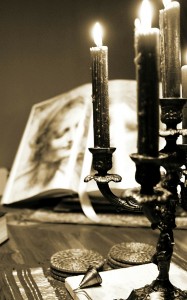 I have never had an altar and I found the instructions of building one for myself just not me, not something I would do.
I looked around and found that, really, my home is my altar and I made that comment to my dear friend.
I felt it was egotistical to say my home was my altar, that it placed attachment to my things.   And perhaps there is some attachment to a few of the items.
My friend reminded me that my house used to be my prison and that transforming it into my altar was a major accomplishement.   I sat with that thought….
My house was not a home for so many years, it was a place to hang my hat.  Home is where the heart is and there was no love amongst the walls, no trinkets of adornment, no comforts with its furnishings or the people who resided there.
As my divorce came and went, the house had become mine to do with it what I wanted. No compromise with others, no decisions made just to please another.   I was and am free to do what I want.  Awareness for what I needed became apparent as the cast of characters in my life stepped off the stage. As I had looked to others in my house of life for the love and acceptance, I had to turn to self-love and self-acceptance.
The walls that held secrets of the arguments, the abuse, the anger and resentment, I had them plastered over. Part of my history that were painful building blocks of who I am today, I'm stronger for it.  Plaster and paint gave a fresh page to a new chapter.  The house is an eccentric museum of my life and the things I hold dear, the memories and experiences which have shaped me in this lifetime. The books I loved reading and those I would love to read. Treasures and antiquities from my adventures. Colors and fabrics that bring me comfort.
Even a toy from my childhood with a hole and a torn eye sits on a shelf, a reminder of family vacations when they were still fun, and I was innocent.
Like an onion, each item is a layer of my life and peeling away one layer only brings about another.
The structure that, in the past, held no charm and had no atmosphere, now welcomes everyone once they cross the threshold.  The energy of my altar is one of peace. It's a place where every room invites you to stop and sit a spell.  Blow the dust off almost any item on the shelves and there is a story of wonder and discovery to be told.
On the floor are framed photos of people and places I love and one day they will finally find their place on a wall. My tribute to them.
My home is not finished.  It's a work in progress as is my life.
Guest Blogger