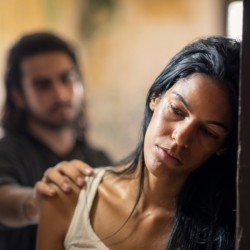 A few years ago, I had the great joy of speaking to groups of women who had been abused and who had found the strength to stay gone.
I remember asking them why it took as long as it did.
In one case 44 years and in others 20-25 years. The lucky ones where 10-15 years.
They ALL said the same thing:
They wanted to "make" their marriage work.
They wanted to be a better wife.
They wanted their children to have a father.
In every case they were searching for the "reality" that was never there.
They believed the broken promises of "never again."
They believed the abuser when he said all they had to be was be a better wife, cook, daughter-in-law, income earner, mother, sex partner.
They believed in the pretend of their lives.
They chose to ignore the solid reality that something, many things were wrong.
It is my fervent hope that we can learn to live with the reality of our lives and leave the pretend to the film makers.
Love and light,
Indrani