Huey Lewis and the News sang that back in the 80's.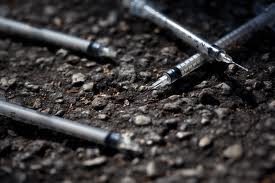 I want a new drug.
I have let certain people in my life be my drug of choice. I took people into my life that affected me like a narcotic.
Shoot up with one person and if they were happy, then I felt euphoric.
Shoot me up with another person and if they were sad, I felt sadness.
A fix of an angry person and I became paranoid and riddled with anxiety.
Once I realized that these people had this narcotic-type affect on me and what was happening to me when I was around them, I knew I had to stop.
Quitting cold turkey is hard.
Withdrawal sets in and the cravings begin.
I found myself using again.  Just a little time with this person, a text, an email, a short call….I can handle it.  It won't hurt. I have it under control. It won't affect me. Then I'm back on the streets again….hanging out with people who had such a bad effect on me.
When I was clean from these people, I felt lighter and truly happier. I found myself a little sad that I could not spend time with them, but certainly a healthier person for it.
Those people who so wanted me to take them into my life are still out there and I am aware of the negative affects they have on me.
I see text messages and voice mails and those old feelings of "I can just do a little bit, maybe this trip will be different, I can control myself," creep up my spine.
I quickly delete messages and emails, anything that could entice me. It's like flushing drugs down the toilet to prevent from taking them.
I am addicted to leading a happy, purposeful life and choose not to be an emotional slave to those around me.
It's not always easy but it is worth the effort.
My new drug in life is me.
Are you addicted to certain people? What effect do they have on you?
Can you break free?