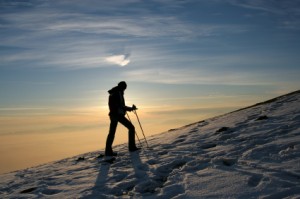 Follow the leader….
I have always liked to be the leader, to be the big dog, to set the example.  I have been this way for my entire life.
During my climb of Mt. Kilimanjaro I had to learn to accept that I could not be the leader.  Altitude sickness affected my climb from the start.  I was forced by my physical abilities to be at the end of the line.  I could not set the pace.  I could not inspire others to follow.  I could only trail behind others… which is an unusual position for me to be in.
As I followed, it was my ego that hurt more than my oxygen-starved body.
I wanted to say:
– I can carry my own back pack.
– I can step up to the challenge.
– I can do it myself.
But I could not.
I was forced to follow.
I accepted my back-of-the-pack position.  I watched and I learned.
I watched the guides.  Where were they stepping?  They stepped where they knew the footing was firm. I learned and stepped where they did. I moved easier.
How fast were they hiking?  They knew the trick was "pole, pole", slowly, slowly.  I learned to move slowly and deliberately.
It was not my job to encourage the team…it was their job and I accepted their encouragement for myself.
Too many times I think people with "type A" personalities put themselves into leadership positions out of habit… when in fact, if us "A's" could step back and follow more often we could learn a lot from those in front.
Now that I am off of the mountain and not in such an extreme environment, it will be interesting to see if I can step back and let someone else lead and try to learn from their example.
Can you think of situations when you should have followed?
And, next time do you have the courage to let someone else lead?