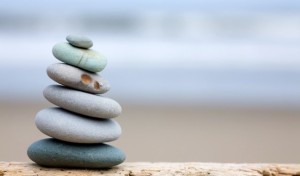 The week was a doozie for me personally.
I started out the week with some disappointments, then got some great news and then some greater news, then was able to witness the pain of another while holding space for them.
And all of a sudden I realized that through all the ups and downs I had lost my roots.
I allowed myself to get SWEPT away by whatever news was floating around me.
I forgot that I was in charge of MY emotional health.
It was quite a shock to me, because I have been more rooted than not these past few years.  Took my rooting for granted. I forgot that I had to continuously strengthen the roots for them to stay strong.
It is like lifting weights and when you stop, the muscles get lazy and you have to start all over again.
I forgot to devote more time to meditation and to yoga and to silence.
I have been ON for weeks in a row and forgot that I needed time away from everything.
I became intoxicated with the numbers on my pedometer and started to believe that the numbers mean more than numbers.
The result was that in a matter of a few weeks I was thrown from emotional pillar to crushing post and I have the bruises to show.
I realized that I was out of alignment.
This misalignment was not a spinal condition, it was a spiritual condition.
The only course of action was to STOP and BE in the moment.
I dug out one of my favorite spiritual reads, The Alchemist by Paulo Coelho.
I began to devote time to inner inquiry and intuitive push-ups.
I began to ALIGN myself with my values again.
I offer you the simple formula below to help you to remember how to regain Alignment.
ALIGN
A… Always
L…lean into your
I…intuitive
G…growth
N…NO to giving your power away.
You can begin to ask yourself what it means to give your power away.
You can give it away in many ways.
You can believe that other people must do certain things to make you happy.
They must have lunch or dinner with you.
They must call you every other day or ask you certain questions that show they really care.
If you can come up with a list of people who have affronted you and it brings up a lot of hurt then there is a good chance you have given some power away. They are still controlling your feelings. You must de tangle from their grasp.
When you are in alignment, you can feel hurt without having the hurt bring you to your emotional knees. You can separate from the event in question and begin to recapture all of you.
The pieces that felt hurt and wounded will begin to heal and bloom.
It may take a few moments to begin the process of healing, it is worth the time you will invest.
If you do not choose to heal, you choose to keep hurting.
Give this a try will you?
Love & light,
Indrani