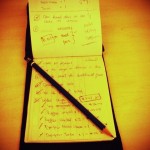 OK, I really do hate lists,
BUT I did an experiment on Jan 1st 2009 and it BLEW me away when ( as I was cleaning my desk) I found my List of Lists for 2009!
The most important thing that occurred to me was that I HAD ACTUALLY DONE ALL THE STUFF I HAD WRITTEN DOWN.
I must admit that I was really surprised that I accomplished all that I set out to do. I amazed myself… anyway here are some LIST ideas to get you started on making 2010 an AWESOME year!!!
A list of the GOALS you have for 2010. Some of my goals for 2009 was to finish Yoga Teacher Training, go the the Himalayas to look for land for my retreat center and to survive a senior year of High School. Done, done and done!
A list of stuff to give away like clothes that are too old, too tight or just plain too ugly!
A list of stuff to give up like smoking, eating too much cake (OOPPS, THAT WOULD BE ME ), hanging out with people who bring you down, watching too much TV, too much Facebook checking, too much surfing, in other words too many time stealers. Now what can you do with all this time you will save? Glad you asked that would be another list haha.
A list of stuff you want to start with all the time you created in your life like learning a new language, training for your first marathon, learning to swim and doing a triathlon (oh yea that one is so me), doing some meaningful community service, eating dinner with your family.
Make your bucket list, stuff that you want to do before you die! This year I crossed off 3 things on my bucket list, one of them being hot air ballooning over Cappadocia in Turkey. Oh by the way when I made my bucket list I was deathly afraid of heights but I still wrote down that I wanted to be in a hot air balloon. Do not allow your fears to control your dreams. Go ahead dream as though you had no fears, hey what do you have to lose? NADA I tell ya, NADA!
I think that you have enough homework don't you?
I have made a nice list your you of stuff you might need for those pesky holiday returns. I found this list in one of my magazines and I have found it very useful
HOW TO GET A HUMAN ON THE PHONE:
Amazon.com… 800 201 7575 do not press 0 or say anything.
American Express…800 528 4800 Press 0 at prompts ignore messages
Apple…800 275 2273 Press 0 at each prompt ignore messages
Dell Tech Support…800 624 9896 Press 3 then say "agent" at each additional prompt ignoring messages
Equifax…866 640 2273 Press 3 at each prompt ignoring messages
White House… 202 456 1414 This goes directly to an operator…. hey if you speak to Barack tell him I said "hi"
Make those lists as you are waiting in car pool line, killing time at the post office or just plain running away from the work you really have to do ( what the heck the laundry will wait, people can feed themselves and the dog … well you'd better not make the dog wait!… )but you get the idea.
Take some time for yourself in these next few weeks of this brand new year and create a List that will make all other lists feel insignificant.
Let me know what you think.