What is the difference between SURVIVING and THRIVING? Which do YOU choose?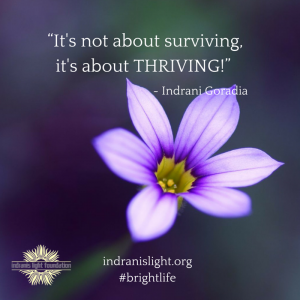 TO SURVIVE:
To remain alive or in existence.
To carry on despite hardships or trauma.
To remain functional or usable.
To cope.
TO THRIVE:
To grow strongly and vigorously.
To do well/prosper.
To flourish.
What can we do to begin to thrive?  Be specific.
Make sure you get enough sleep.
Eat well.
Exercise.
Learn healthy ways of managing stress and anxiety.
Seek support (social and professional services, resources and materials).
Avoid intake of alcohol or other drugs.
Regularly go to a doctor for a check-up.
Make sure you correctly take your prescription medication.
Set aside time during the day for self-care, including finding and enjoying positive emotion, keeping company with yourself, enjoying the company of others important to you, being part of something larger than yourself, and identifying which goals are most important to you.
Are you ready to THRIVE is your life?  Our Live A Brighter Life online workshop series is completely FREE, and it can be anonymous if you need to attend privately.  It's worth every minute!
Join us this summer for our 6-week Live A Brighter Life Online weekly workshop series starting Thursday, June 30th.  It's that easy.  Click here for all of the details and a way to sign up.
With Love & Light,
Team ILF