Do you use affirmations in your daily life?
Here is just one of many definitions of "positive affirmations:"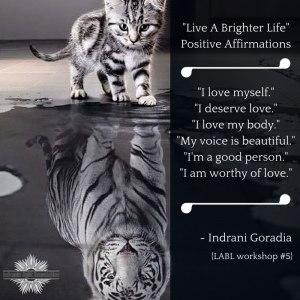 "Affirmations are positive, specific statements that help you to overcome self-sabotaging, negative thoughts. They help you visualize, and believe in, what you're affirming to yourself, helping you to make positive changes to your life and career."
But before we give you some positive affirmations, we need to know if you BELIEVE these can help you.  Dr. Carmen Harra is a best-selling author, clinical psychologist, and relationship expert. Her newest book is The Karma Queens' Guide to Relationships.  She wrote an article for the Huffington Post a couple of years ago about affirmations that can change your life. (Full article here).  She talks about the theory and the science around positive affirmations.  Here is an excerpt of the article we want to highlight:
"Affirmations are proven methods of self-improvement because of their ability to rewire our brains. Much like exercise, they raise the level of feel-good hormones and push our brains to form new clusters of "positive thought" neurons. In the sequence of thought-speech-action, affirmations play an integral role by breaking patterns of negative thoughts, negative speech, and, in turn, negative actions."   ~ Dr. Carmen Harra

At Indrani's Light Foundation we teach people how to restore themselves after suffering from shame and trauma.  One of the tools we use is an "Affirmation Checklist."  It might feel a little weird or uncomfortable, but we encourage you to stand in front of a mirror and say these affirmations to yourself OUT LOUD:
I am WORTHY of unconditional love.
I love my BODY.
I love MYSELF.
I deserve GOODNESS.
I deserve ABUNDANCE.
I deserve to be SAFE and SECURE.
I am a GOOD PERSON.
I deserve to BE LOVED.
I DESERVE the life I say I WANT.
I trust my INTUITION.
I am CREATIVE.
My VOICE is beautiful.
My words are NECESSARY in this world.
I can envision a life of PEACE and JOY.
I BELIEVE that my life and work are MEANINGFUL and NECESSARY in this world.
Are you ready to BELIEVE you are worthy?  Are you ready to BELIEVE you are loved?  We want to help you with these affirmations and so much more!  Our Live A Brighter Life online workshop series is completely FREE, and it can be anonymous if you need to attend privately.  It's worth every minute!
Join us this summer for our 6-week Live A Brighter Life Online weekly workshop series starting Thursday, June 30th.  It's that easy.  Click here for all of the details and a way to sign up.
With Love & Light,
Team ILF