Under what circumstances would you like to say, "No?" Are there circumstances in your life right now in which you are not saying "No" because you are:
Accommodating someone.
Attacking the person for asking for something.
Avoiding the situation all together.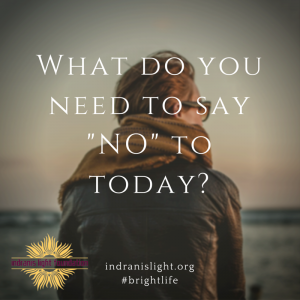 At Indrani's Light Foundation, we teach the Live A Brighter Life workshop series. In the second module we teach tools about HOW to say, "No." We talk about "The 3 A's." Accommodate, attack, and avoid.
For example:
Accommodate: "Anne" does NOT say no, and accommodates her husband by giving over all of her money to him because she fears he will retaliate.
Attack: "Alice" yells and screams at her son because he consistently disobeys her.
Avoid: "Martha" steers clear of her co-worker, who seems to always want to borrow money.
Do something right now ….
Take a few minutes to write down one instance in which you would like to say, "No." Write down the emotions that you feel about this issue.
Please give us the top two emotions that come up for you.
Love & Light,
The ILF Team
(P.S. If you are interested in taking our 6-week online Live A Brighter Life at no cost, please click here for more information.  Classes start June 30th.