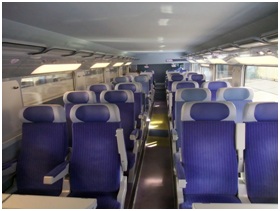 You might be wondering how "someone like you" can change the world. You might try to convince me you are afraid to speak in public, you are in introvert, or you don't feel you could say the right words to comfort someone in pain.
Well I'm here to remind you that you don't have to speak on stages, you don't have to be a "socialite," and you don't have to always find the right words to comfort someone.
Here is a simple "everyday" story that Indrani shared with us the other day. This may help you understand how you can be an activist by just sitting on a train.
Indrani's Train Scene:
I am sitting on a train.
A woman enters and is very nervous.
Woman: "Does the train to go city hall?"
Indrani: "Yes it does."
She sits and I can feel her anxiety. We talk …she has important business. Her breathing is very shallow.
I teach her how to belly breathe. She does it for the whole time.
Woman: (Smiles at me) "Where do you teach?"
Indrani: "Right here."
What is the lesson in this story for you?
You see, people need YOUR wisdom.  People deserve YOUR compassion.  And you CAN make a difference in the world by just sitting on a train.
Let's pretend we know the ending of this story.  How did this simple breathing exercise that Indrani taught this woman make a difference, and how did the actions of this woman at city hall eventually effect hundreds of lives in a wonderful way.
Yes, YOU can do this work.  You can be an activist in a quiet way and still change the world….. One woman at a time.
I invite you to join Team ILF, and our mission to end violence against women.  You can begin the journey to be an activist by listening to our FREE Live-A-Brighter-Life recordings, available here at: http://indranislight.org/engage/intro-course/
You can also become a Master Trainer for ILF by enrolling in our brand new ONLINE TTT Course beginning October 16th! Yes, you can be trained from the comfort of your own home or office. Click here for the details of this amazing opportunity.
With deepest gratitude,
Amy
Director of Outreach & Training | Indrani's Light Foundation