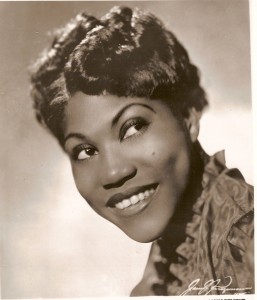 She was married off at 19 to a preacher who just wanted her to make him money. He used her in his churches and he treated her badly in the privacy in their home.
She found the courage to leave the marriage and she and her Mom made their way to NYC. She soon found a way to make a life for herself and her Mom by singing in the many clubs.
By 25, she was one of the most popular musicians of the day. She established herself in less than 5 years in a male dominated industry.
What can we learn from Ms. Rosetta Tharpe?
We can learn the following:
If you are being abused…leave and take someone you love.
When you need to support yourself, find ways to use your divine gifts and use them often.
If tradition tells you NOT to do something, defy it and do it anyway. Trust your talent.
The young African American performers of today have much to thank Ms. Rosetta Tharpe for and are standing on her shoulders.
All of us are standing on the shoulders of Ms. Rosetta Tharpe….let us make her proud of how far we have come as women.
Let us use our skills and stand on our own feet.
Let us trust ourselves and live with life and love in our hearts.
Let us not allow the traditional mores to rule our lives. Let the mores guide us instead.
Let us use our lives to make the world as we want it to be.
Sing your songs, in prose, poetry, with or without instruments, in blogs and in pod casts and do it with flair. We need your voices.
In 2008, January 11th was declared Sister Rosetta Tharpe Day in Pennsylvania.
She would never have guessed that such an honor would be awarded after her death….she was too busy just living and using her talents.
If we all use our gifts, what honors may be awarded posthumously? How may we make future generations proud?
Simple…
Sing.
Dance.
Live.
Love & light,
Indrani