I have had the great fortune of being immersed in the teachings of Dr. Brene Brown (see her on TED.com here)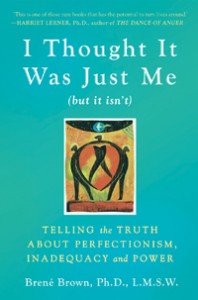 The work that we are doing is focused on shame and guilt.
Dr. Brown's work on SHAME can be found in her book I Thought It Was Just Me. I recommend it, HIGHLY. Until you get the chance to read it, here is what I have learned in just one day.
Shame says I AM BAD.
Guilt says I DID A BAD THING.
Her definition of shame is: Shame is the intensely painful feeling or experience that we are flawed and therefore unworthy of love and belonging.
Dr. Brown says that "we all have shame; we just don't talk about it". According to Dr. Brown, people who can be resilient to shame are those who "can get to language fastest".
What does this mean? Let me try to explain. Shame is felt in the part of the brain that has no language. Language comes from the logical side of the brain. When a person tries to describe shame they have to create a bridge from the emotions they feel and the language to describe what they are feeling. Her suggestion is to NAME it.
Feel it Name it.
So it goes something like this: I organized a Flash Mob in my town and many people signed up. A blogger decided that I "could be a cult" and he pasted that in his blog. When I found out about it, I felt shamed. I felt shamed because I thought I was stupid for organizing it. I had thoughts like "who do you think you are to do this?", "you are too old to be doing stuff like this".
Lucky for me, I was able to talk it through with someone dear to me and I was able to let it go.
Notice I said someone DEAR. It MUST be someone who has EARNED the right to receive your deepest hurts. It cannot be a person who is self-absorbed, or someone who always tells you their troubles are bigger than yours. 
You must be able to say something like: "I am hurting and this is how I am feeling". Your trusted person must be able to hold space for your pain, without trying to solve it or minimize it. When you are in shame, Dr. Brown says that "you are not fit for human consumption". She also says "do not go to your children until you have processed it".
How do you process it? Feel it Name it.
This topic is heavy and it may make you uncomfortable. 
If our society does not learn to deal with shame, we will continue to do what we have done, and get what we've always got.  I did not come up with that catchy phrase myself and I do not remember who said it, but that does not make it any less relevant.
Are you ready to do some work around Shame? Read Dr. Brown's book…I Thought It Was Just Me.. and begin to become Shame Resilient.
Love and light from Indrani