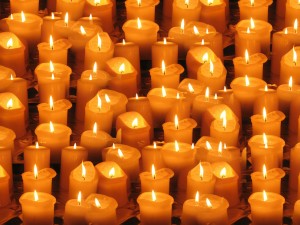 I was visiting a very close relative a while back and the conversation turned to a favorite brand of candle she loves. I am always aware to bring some of those candles for her. She is in the winter of her life and a candle makes her happy.
The last time I brought candles, I had intentionally brought more than she could use in 8 months. I remember being in the store and purposefully filling the basket with more than I had ever purchased.
So, during my visit, as she is filling me in on the stories of her life, she says in a sheepish whisper "you forgot to bring more candles."
I was quite shocked and thought for a few seconds that I had not sent the full compliment of the candles I had bought just a few months ago.
"You are out?" I asked.
She said, "Almost."
I asked, "How many do you have?"
"A few." she said.
I have history with this person and her inability to say the truth without having to twist it to serve her purpose.
"Few" is not a number.
I pressed, "How many do you have?"
She looked very uncomfortable and squirmed in her chair and said, "One big bottle and eight small ones."
My first instinct was to lash out and say, "Why are you so greedy?!"
I did not.
Instead, I got up, went to the kitchen to get a glass of COLD water to calm down and then I went back to sit next to her.
I said, "I want to ask you a philosophical question."
She asked what that word meant. I explained. She seemed to understand.
I began to ask her how she felt when she though she did not have enough candles for her immediate needs.
She answered as best she could and after a few more questions, she said
"I feel afraid that I don't have enough."
Then I explained the concept of scarcity and abundance. It took me about twenty minutes before she understood. I was not rushing her, I was not rushing myself. I had actually already accepted that she may not get it and that would have to be ok.
She did understand the concept. Then I said, "How might you feel if you BELIEVED that you had enough candles for your immediate needs?"
She said, "Well, if I use them all what about the rest of my life?"
I asked her "How long are you going to live?"
She said she did not know.
I said, "None of us know, we all just like to pretend that we do!"
So again, I asked about her how she would feel if she believed she had enough.
She said, "I would feel comfortable."
I asked her to choose the believe in "enough and abundance" instead of "not enough and scarcity."
She asked if I thought it would be wasting money.
I said, "I think it's a waste of money to buy more stuff for you to STORE, instead of you using the STORES of stuff you already have. I could use that money for things that are immediately necessary instead of using it for stuff you already have."
Dear Reader,
I do not know if she got the concept, I felt like I had done a good job of explaining and using an example with which she was familiar.
My question of you is this…
Do you get this concept?
Whether it's as simple as candles or food or money?
Do you know when you have enough?
I invite you to look to your own life for your areas of not ENOUGHNESS!
If you are human, there will be many.
Take just ONE small area and do some inquiry around it.
Ask a friend to help you with the inquiry.
Ask a friend who LIVES in the abundant philosophy. You will know which one, they will be the ones who are happy and joyful and always ready to give to others.
Let me know how this goes for you in the comments below.

Love and light,
Indrani