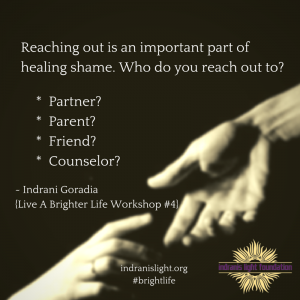 When you feel shamed or humiliated, who do you reach out to?  In our Live A Brighter Life curriculum, we teach a workshop called, "Shame Resilience."  It's so important that we learn how to recover from shame.
Reaching out is an important part of shame resiliency.  It requires that you choose sharing your story and creating change over separating and insulating yourself.  In doing so, connections are built and we start to see that we really are all the same.
It gives voice to the shame being felt, which in turn weakens the shame.  When you reach out you move from separating and insulating to sharing your story and creating change.
Separating and insulating means that there is an us and a "them."  And we are not the same as "them."  Separating and insulating allows you to believe that what is affecting others could never affect you, and what's affecting you could never affect anyone else.  No one else has been through, seen or experienced what you have, or you will never go through, see or experience what someone else has.
To whom will you REACH OUT?
• Partner
• Parent
• Family member
• Religious community member
• Community member
• Teacher
• Coach
• Health professional
If you are struggling to be vulnerable, and unable to reach out to anyone, please let us help you.  Our Live A Brighter Life online workshop series is completely FREE, and it can be anonymous if you need to attend privately.  It's worth every minute!  Isn't it time to THRIVE is life, and not just SURVIVE?
Join us this summer for our 6-week Live A Brighter Life Online weekly workshop series starting Thursday, June 30th.  It's that easy.  Click here for all of the details and a way to sign up.
With Love & Light,
Team ILF