*Psst.. Did you know you can highlight any sentence in this post to automatically share it via Twitter or Facebook? Go ahead, give it a try!**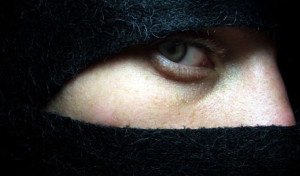 When I hear the word Ninja, I think of a person who is stealthy, nimble and agile and uses the forces of his opponents to his advantage.
He only fights when necessary, and then too, only to defend himself or his family, or to right a terrible wrong.
My father is a Ninja.
He never let on to any of his three children how difficult it was to put food on the table. He never allowed us to suffer the stigma of "poverty" and always found ways to provide what we needed to succeed as students and young people. He encouraged all of our friends to visit, sleep over (often in drunken hazes when we were teenagers) and never once do I remember him lecturing or making us feel like losers for our immature behaviors.
He always led with love and followed with well placed stories with metaphorical lessons that somehow always made sense.
As my father lays in a sedated coma due to a severe stroke, we his children are left to remember the greatness of the Ninja skills he wielded so magnificently and we are left to wonder IF we managed to become the adults he always believed we could be and if we told him we loved him and showed it as much as we could.
I am so grateful that he never considered that his daughters be married off at young ages so that he would be relieved of our care.
He always stressed as much education as we were capable of and never wavered in his belief in our abilities to become fully functioning members of society.
I read about fathers and mothers who sell children into prostitution as a solution to bring money to the family. I cannot even imagine what my father would say to theses practices.
I read about parents dragging their girls out of school so that they can take care of the house and the younger siblings. I cannot even imagine what my Ninja father would say about that.
I cannot imagine lots of atrocities that I hear about fathers around the world. I am grateful that I had a DAD who would have given his last ounce of blood to keep his children safe and secure.
My father was a Ninja and as he sleeps in his coma, I can only hope that his dreams are of better times with me in Texas, where he loved to be.
He loved to go to the giant grocery stores and to buy what he wanted and came home to cook it for me and my children.
He loved driving my son to elementary school almost 25 miles away from home while I took care of a new baby.
He loved to go to Target and to be able to buy whatever his heart desired and it always desired very little.
If he had two pairs of pants, it was enough.
If he had four, he would say something like, "but I can only wear one pair at a time while I wash the other one."
He was not a hoarder of material goods. He spent wisely and knew the value of a dollar.
My Ninja father taught me so very much and most of all he taught me the value of the relationship between Father and Daughter.
A bond that should never be taken lightly.
A bond that sets up the girl for a life of happiness or dread.
A bond that cements the way a girl feels about men.
My father, the Ninja, is my everything.
He is and will always be my hero.
Dad,
As you sleep know that I respect what you have taught me and I hope to continue to make you proud.
Love and light,
Indrani
Daughter of Ralph Augustine Nathu.