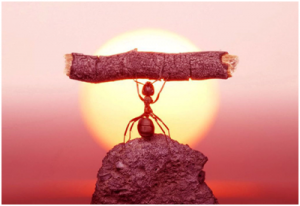 On a recent flight from Trinidad, after doing my TEDxPortOfSpain talk in October, (watch my talk here: bit.ly/1OGFcX5) I saw the movie, "Ant Man."  I am not usually a fan of these superhero movies, but my brain was tired and I decided to watch.
There were tons of great computer graphics, no gratuitous sex or badly behaved teenagers… just an old fashioned action movie with a good old-fashioned ending, where the blended family lives happily ever after.  Okay, it was formulaic and predictable and I do not really recommend it.
Here is what I DID enjoy.  Ant Man can move from "BIG" to "small," and each size has its drawbacks and gifts.  The best thing about being "small" is that the strengths don't get smaller. They stay the same.
So just like an ant can lift many times its body weight, Ant Man has amazing strength and can do amazing things even when small so he is still a formidable opponent.
When he is his usual size, his powers are ramped up and he is the hero we want him to be.
Here is what I took away from Ant Man.  We can choose to play big or play small and it needs to be our choice. When we choose to play small we still need to bring all of our skills to the stage.
Recently I was on a panel of six people, all of whom had their specialty jobs. The panel consisted of a judge, a police sergeant, a district attorney, etc.  We were all there acting as one body and we all had small jobs in support of that one body.  We each showed up as one hundred percent of our larger selves even as we treaded lightly, and did not hog the microphone.  None of us felt like we had all the answers.
We had never met each other and I was so proud of how we played nicely together.
Any one of us could have been plucked out from that panel and been asked to do an hour presentation to the audience and we would have stepped up.
I like going from big stages to smaller stages, it helps me to practice my skills in different ways.
While speaking at the United Nations, and on the TEDxPortOfSpain stage, I played to a global audience. My thoughts were more encompassing and I used imagery that could resonate with a more expansive audience. I was introduced in a formal way and some of my achievements were read out loud. The audience in those venues wanted the bigger picture of me.
I also had the great fortune to speak on a much smaller stage at my high school Alma Mater, and when I heard how I was being introduced, I realized that the kids did not need that version of me.  They needed to hear I used to be "one of them." They needed to know that my "big," started "small" and they needed to resonate with my small.
When I began to speak I said this to them:  "Those words are things I have done over the past 35 years but I am really just a big eye coolie girl." I could see them relax. They understood that term. "Coolie" is a derogatory term for people of East Indian descent in Trinidad. That was a phrase they had heard and could digest.
It resonated.
From that small position I began the story …. and I built on it to get bigger and bigger, and told them they could do it also.  I ended with reminding them I was still a big eye coolie girl and I always remember my humble beginnings.
The ability to move between big and small is something we humans can do, and it helps us to stay grounded. It helps us to know that our heroes, whom we hold in high regard, also put on their pants one leg at a time.
My question to you is this… How big are you when you are small?  Stay strong and use your "big" to your advantage, and help people accept you for all the talent you bring to the party.

Love and light,
Indrani