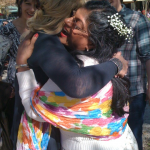 How wonderful it feels to WAGE JOY!
Happy faces, engaging smiles,shrieks of joy… All things that we experienced TODAY.
We danced and we high five'd each other and our cheeks were tired from grinning.
If you were not with us, we missed you.
If you want to experience what we felt, I URGE you to FIND something JOYFUL to do and do it with all your heart and soul.
If you find yourself afraid of being too joyful you are not alone.  Tell us what is preventing you from experiencing joy.
Dr. Brené Brown said that we are more afraid of joy than we are of pain.
I invite you to invite JOY into your life.
Look on YouTube under favorite videos and check out the photos on Facebook to see what we felt!