We have officially launched our fall LIVE virtual Live a Brighter Life Night Classes, taught by our Director of Education & Training, Amy Jaffe, and some of our certified LABL Trainers.  As we near the holiday season, we felt this was a wonderful opportunity to teach you the tools to start practicing your boundaries, and saying "No" to your friends, family, and others in your life.  It's also a great time of the year to take care of yourself, and practice more self-care. We'll work on some tools to move through some guilt and shame feelings as well.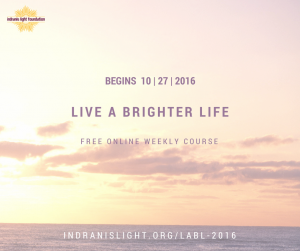 For the first time ever, we will be teaching the Live a Brighter Life curriculum in the evening so that more people can attend after work, cooking dinner, getting the kids ready for bed.  Classes will be taught from 6pm – 7:30pm PT starting Thursday October 27th. These classes will be held every Thursday evening for the next six weeks (excluding Thanksgiving in the U.S.).
(We realize this time will be quite late for our East Coast community members, hopefully you can still make it live)
If you join us for this free 6-Class series you will learn the tools you need to change your life by:
October 27th – Setting boundaries that will protect you and help create healthy relationships during the upcoming holidays
November 3rd – Delivering a "Positive No" that will open up your time and energy so you can say "Yes" to what is important (A strong "No" leads to amazing "holiday yeses!)
November 10th – Building resilience to feeling shame in your life (let's face it, time with family can bring up a lot of….stuff)
November 17th – Ending the habit of putting everyone else first, and taking care of yourself (holidays can be exhausting, let us help you take care of yourself)
December 1st –  Creating a more positive and meaningful day, every day (make this one of your best holidays ever!)
December 8th – Being present, and reclaiming yourself!
(Completing this 6-Class series is also the first step in becoming a Live a Brighter Life Trainer.  If you are looking for a way to make an impact with your volunteer work, we would love to add you to our growing list of trainers!)
We made it very simple to sign up.  Just click on THIS LINK and fill out the short form. You're done! If you need to miss a class …. It's okay!  We are recording every class so you can listen to it later and catch up for the following week.  I will give you a little homework after every class … but you'll love this kind of homework!
I hope to see you THIS Thursday at 6pm!
SOCIAL MEDIA SHARING
We could also use your support in spreading the word about our Live A Brighter Life Class. You can use the following text on Facebook, twitter, or your social media platform of choice to get your friends and family involved in stopping the silence:
Facebook: Hey friends! I'm signed up for the FREE Live A Brighter Life online class with Indrani's Light Foundation starting this THURSDAY at 6pm PT. Will you join me?  We can support each other through this holiday season! Here's the link for details: http://indranislight.org/labl-2016/
For twitter: @indranis_light is offering their FREE virtual Live A Brighter Life 6-week class starting on Thurs, Oct 27th http://indranislight.org/labl-2016/
With love & light,
Team ILF