Daily kick start for your brain…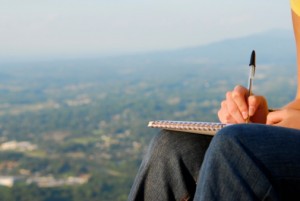 I usually write in my gratitude journal right before bed but last night I came home late and was extremely tired. I decided to go to bed and I promised myself that I would write the entries when I woke up the next day. So here I am at the kitchen counter, the house is silent and my coffee is warm and welcoming.
I do a quick scan to remember the main things that I was grateful for from the day before and I easily access a few nice memories.
I wrote them down; happy to keep the promise I made to myself for completing my list.
Then, I pause and I scan my brain again and KAPOW!
All of the other things that I was grateful for all downloaded at once and my brain said "HELLO!"
It was a fascinating experience.
I wrote down all the items that I wanted to capture and then realized that something had shifted internally.
I woke up joyful… so that was not what had shifted.
I woke up grateful…so that was not what had shifted.
I woke up ready to exercise…so that was not what had shifted.
I sat back for a few breaths and finally realized what it was that had shifted.
I seemed to have been filled with hopeful expectation for this new day and wondered in a flash what great things were about to unfold.
Hopeful expectation for this new day!
Can any start to any new day be ANY sweeter?
I think not.
There were so many days in my past when I woke up with trepidation, angst and fear for what the new day would bring. I scoured my world for all the BAD things that would go wrong… and I would find each and every one of them. I found horrible things around every corner, just sitting for me…waiting to be discovered.
I painted my life with all the pain and the heartache I could find.
I coated myself with every single bad memory and bad experience I ever had.
I was miserable.
I could NOT enjoy the positives right before me.
I did not have the training to see the positives in my life.
It was this daily dose of dissatisfaction that finally brought me to me knees and the pain finally got large enough for me to seek help.
Help came in the form of:
1. Intense exercise that lead me to training for my triathlon.
2. Consistent meetings with an amazing therapist.
3. A decision to put the love I felt for my children at the beginning and end of every day and as bookends to everything I did for them during the day.
4. A decision to speak differently to my children. I spoke more softly and kindly. I treated them as the precious gifts they were.
5. I began to fully comprehend the short amount of time I had here on earth with the folks that I loved.
Yes, I did all these things simultaneously. I began to develop the skill of pushing the negatives out of my zoom lens of life and began to zoom in on the good that was all around me.
Now, I have the ability to scan my brain for great memories and they are immediately delivered into my conscious mind.
This is a life affirming skill.
I invite you to try it.
It is not easy but mastery will save your life.
Where should you start?
Go for a daily walk…even if it's just for 10 minutes. Leave your cell phone at home and just walk. Notice the glory of nature along the way…even if you are in a city.
Even in a city you can hear and see birds and notice weeds popping up between the slabs of concrete.
Look for the messages that say, "You are here…and here is a good place to be."
Please give this a try. You will be happy you did.
Love and light,
Indrani