There was a time when I used to buy flowers and hang them upside down for them to dry. I had a notion that I could have a small business making dried floral arrangements. This illusion did not last long. 
These days I buy beautiful flowers and rush home to put them in water to keep them fresh. I take pains to prepare the water. I use a few drops of chlorine or a crushed baby aspirin in the water and I lovingly arrange the stems. I change out the water and try to make the flowers last as long as I can. 

I realize that taking loving care of the flowers with preparing the water is a lot like raising children. We try to give them an environment where they will thrive and bloom and grow up to be strong and kind. We pay close attention to how we behave around them, except for when we don't.

If we live in an environment where there is violence, be it emotional or verbal or physical, and we pretend that it does not affect our kids, we are deluding ourselves. 
This year on valentine day if you get flowers or buy them yourself, ask yourself if you care if they live or die. 
If you don't care then just throw them away. 
If you do care, notice how much attention you give to them.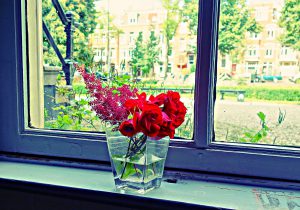 Our kids are our precious blossoms and they need nurturing and pretending that violence is not affecting them is lying to ourselves. Take a step back and access the situation and ask for help if you need it. It's not easy to look at what's really happening and making a few changes, but I guarantee you that it's worth the time and effort. 
Love and light,
Indrani Goradia