The other day I was preparing some small quilts to take with me to India for a program I planned to visit. The quilt squares had been decorated by children of the mothers who had been burned by fire or acid. I had met these kids years before and never got a chance to finish up the quilts. I was going to India in a few days so I was inspired to finish them. This work reflected all my hearts passions: meeting the survivors, speaking to the kids, remembering to bring them fabric swatches, saving the swatches for the right time to finish it and of course sitting at my beautiful machine and finishing the project.
All of a sudden, the machine would not work. The needle would not stay threaded.The bottom thread would not catch. I rethreaded it about 6 times and then I yelled, to no one really, "what the F is wrong with this machine?"
I began to hyper focus on the threading mechanism and tried to use a pen to poke the thread into one of the moving parts and of course it could not work. I had never threaded the machine with a damn pen before. Why was I trying to do that now? I have been sewing for 50 years. I used to make my own Catholic School uniform skirts. I KNOW how to thread a sewing machine.
Then a heard a voice in my head say "Indrani zoom out, close your eyes, and use muscle memory to do this. Nothing is wrong with you or the machine."
So.


I closed my eyes. I allowed my hands to float up to the machine and I held the thread a loft. I mimicked threading motions and saw that my left hand floated behind the presser foot to check if it was in the down position.
I opened my eyes.
I smiled.
The presser foot was NOT in the proper position.
I put the foot down and threaded the machine and finished the quilts.
Then, it dawned on me that this episode mimics what women do to themselves. We KNOW how to be in the world. We know how to be brave and courageous and yet, when we forget a simple thing (like lowering the presser foot) we begin to judge ourselves and we accept the judgment of others. I love that it was the "putting down of the foot" that brought me out of my trance of feeling inadequate and stupid for not successfully completing a task I have done 1000's of times for 50 years. How can you use this in your life?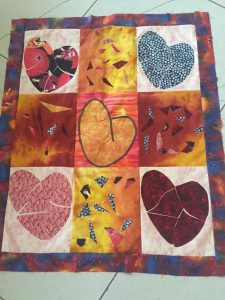 The next time you KNOW deep in your heart how to do something, or WHO you are at your core, put your foot down on the knowledge and do not allow any one (even your judgmental self) to convince you otherwise. If others in your life say unkind things, let if go in one ear and out the next. Put your foot down and don't let others define you with their words. Maybe use a simple phrase like "I am not sure whom you are describing, but that's not me."
Believe the words. You know you!
Now, go be the full YOU. The world needs all of you.
Love and Light from Indrani