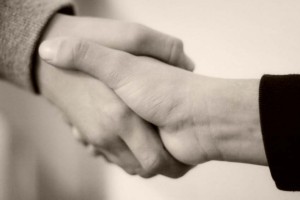 I recently met a person who seemed intelligent, respectable and personable. This person also seemed to cherish their
family and love life. I thought to myself, hmmm….I could be friends with this person.
But then someone gave me an unsolicited opinion that the person I met was a liar, bad news, and would bring me down. They insisted that I would regret being friends with this person. No specifics in why, it was said cut and dry…just like that. These judgments were offered up to protect me.
Immediately I was filled with self doubt.
Did I misjudge this new person?
Had I been duped?
Had I made a bad judgment in character?
Do I trust too easily?
I felt bad about myself.
These thoughts have been percolating for a few days now. After much thought, I realize that I have a great gift.  I can see the best in people from the start.
If I was to meet you on the street today I would look at you warmly, smile and engage with you.
I do not weigh heavily on other peoples experiences with you.
What matters is how you interact with me.
And if your interactions with me are negative then I may choose not to be around you.
In my world I do not want to immediately look at your face when we meet on the street and distrust you.
You have given me no reason to be on guard.
You are not perfect, nor am I.
You may have hurt others or made mistakes in life, and so have I.
When we first meet we have a clean slate with each other.
It is up to us what we write on that slate and how we interact together.
Hi, my name is Kay.  It is nice to meet you.