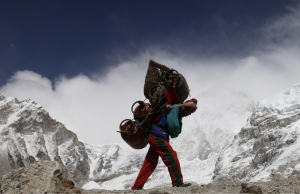 Do you know what a Sherpa is?
They are the BRAVE people who carry all the equipment in a dangerous climb.
The adventure seekers carry themselves and their longing to summit.
The Sherpas carry everything else.
In the climb of your life, your own personal summit, who do you trust with your dream and the equipment you need.
What do you have to do to identify the right Sherpas for your climb?
First… You MUST identify your own summit.
You cannot gather the Sherpas and have them pick your summit.
Then, after you identify the summit and ask your Sherpas to support you, YOU TAKE their advice!
You will have chosen professionals and they will have your best interest at heart.
You will have many meetings of minds and hearts and souls and spirits to come up with the right combination of necessary items.
Then, the real work begins.
NO ONE can make your climb for you.
NO ONE can take the falls for you.
NO ONE can help you recover from the inevitable pitfalls along the way.
Only YOU will know when you need to rest, or ramp up, to eat or sleep.
If you allow yourself to be pushed beyond your own limits only you will suffer. The Sherpas may be able to offer some advice about recovery but can really only offer company as you recover.
So, as you begin to identify your own personal summit, and select your Sherpas, remember to love and respect the journey on which you are about to embark.
Carefully select who you want to invest your resources in efforts that are personally fulfilling and spiritually uplifting.
Love and light,
Indrani